Appointment Setting Services
Our appointment setting service adds value to your sales efforts. HMS Account Assistants will not only increase appointments for your sales department, but will gather market information on your behalf using CMS software to capture that data.
Want to know which target audience is producing the most appointments? No problem! Want to know why a new account would consider switching to your company? You've got it!
HMS provides long term, cost effective sales prospecting and appointment setting services to bolster the sales efforts of our clients throughout the US and Canada.
Teleprospecting for Appointment Setting
We train dedicated Account Assistants for setting appointments for our clients. Our Account Assistants are assigned specific client accounts to represent our clients knowledgeably; our staff members function as members of our clients' sales teams. Our Account Assistants don't read scripts – they engage prospects in genuine conversation in order to better qualify the data passed along to our clients sales team… and to better qualify the appointments set for your internal sales team.
HMS not only does appointment setting for your team, but gathers the market information vital to today's business, using state of the art technology to capture that data. We work with our clients, tailoring our approach and our software usage to better integrate with their existing processes. And we will work with you to determine what information might be most beneficial to you!
Our thoroughly trained Account Assistants, dedicated to your account, will know your company's business model and products. We will represent your company professionally and knowledgeably while setting qualified appointments for your sales team. Our affordable rates and flexible programs allow us to customize a plan to meet any marketing budget. We can help you steadily increase your company's visibility and revenues, even with our 20-hours per week minimum programs.
"Partner for Success" is more than a motto – it's our mindset. We work with each of our clients to tailor our support in the most effective approach possible using state-of-the-art technology to increase efficiency, ensure accurate data, and enhance communications. We recognize that our success will only be achieved in tandem with the success of our clients.
The HMS Triad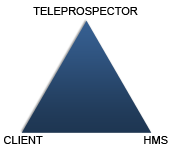 Our goal is long term relationships with our clients. We closely monitor new customer accounts, to assure that we have the understanding and the tools we need to provide the information they need. This arrangement gives everyone ample opportunity to be assured that we work well together, with neither HMS nor the client locked into a regrettable union. We will meet with your company's management and key marketing sales personnel to forge a customized program aimed at first achieving, then exceeding your company goals!
Our results-oriented approach emphasizes producing and maintaining a profitable number of qualified appointments per hour for your sales team.
HMS puts the heat on cold calls! We can provide the thaw you need for your sales staff to sizzle with increased effectiveness! Partner for Success with HMS!